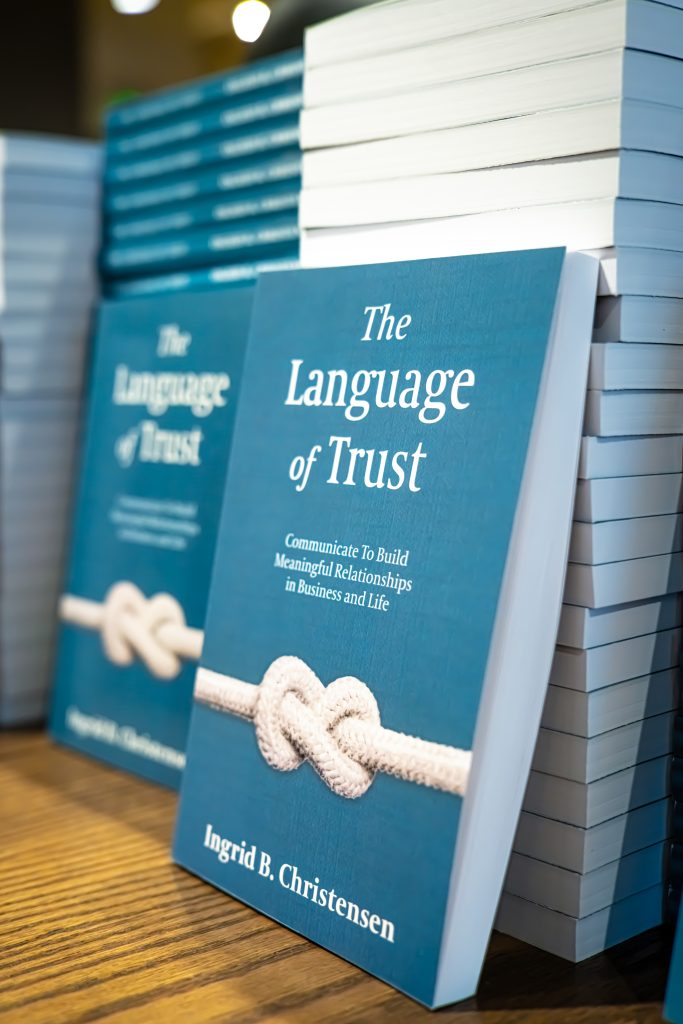 EXPLORE THE
LANGUAGE OF TRUST
Trust directly impacts a business's bottom line. But more importantly, it's the key to unlocking one's purpose, resilience, and growth. Trust is a practice that offers transformation—and this book shows you how.
You will learn guidelines for creating authentic, trusting relationships with your stakeholders to communicate successfully in any language. You will realize that the more people can feel seen and understood, the more you will open up your organization and yourself to the world.
You'll learn how to grow in business and life by nourishing relationships and communicating in ways that resonate personally. And once you learn about developing an organizational identity, cultivating trust with employees, and prioritizing time for personal development, you'll get to do the work for yourself.
As a leader, your ability to cultivate trust – both at work and at home – will have a profound impact on your personal and professional life.
"This book is for anybody who cares about trust, interested in what trust means and what the act of trusting and creating trust calls demands," explains Ingrid. "Brave trust is trusting when you don't want to, when you don't feel like it, and when you've learned not to trust. If you are willing to be vulnerably brave with trust, this book is for you."
Language of Trust Reader Reactions
Discover some of the early feedback the book has already received.
"Eloquent, elegant, 'real world' practical, insightfully informative, motivational, and inspiring, "The Language of Trust: Communicate to Build Meaningful Relationships in Business and Life" is thoroughly 'reader friendly' DIY combination of instructional guide and how-to manual. Exceptionally well written, organized and presented, and of immense value to readers with an interest in Communication Skills,"The Language of Trust" will prove to be a welcome addition to personal, professional, and community library Self-Help/Self-Improvement & Media Communications collections."
Midwest Book Review
"In telling the story of her entrepreneurial journey, Ingrid Christensen provides an authentic and personal perspective on trust, crisis management, customer engagement and personal growth. I've known Ingrid for almost 20 years, and the grit, integrity and empathy with which she approaches every challenge and opportunity shine through in this sometimes very personal, and always wise and engaging book."  
Rand Park, JD, PhD
Carlson School of Management – University of Minnesota
"Drawing from the phenomenal success of building her world-class translation company, Ingrid shares with her readers rich, heartfelt stories on how trust has been the foundation of everything that she and her company have accomplished. Her brilliant insights into how to build trust through language will make you a stronger relationship builder. She offers plenty of science-proven actionable ideas to enhance your communication skills. Ingrid has earned the trust of her numerous clients as this book will earn yours."
Terry Wu, PhD
Speaker & Consultant, Author: "Why The Brain Follows"
"I've known Ingrid for over a decade. Trust is not to be taken lightly and her book helps all of us understand the central role that trust plays in the everyday moments that may seem fleeting and inconsequential, but when done right, creating lasting and positive impacts. We all have a lot to do, but reading "The Language of Trust" will help you, and your colleagues, family, and friends, better build the tools we all need to create trust."
Matt Kramer
Vide President | University Relations – University fo Minnesota
"I love the way Christensen retells the first moments of her journey as an Interpreter -- her words pulls in the audience with her genuine kindness and deep desire to help others with her gift in creating trust. Her stories are captivating, authentic but she also intimating reveals something so basic yet heartbreaking -- the inability for people to communicate and to be understood because of language and cultural differences; humans all over the world never having that privilege of being heard if not for Ingrid and people like her. And trust."
Jessica C. Campbell
EVP | Managing Direct – Nest Seekers International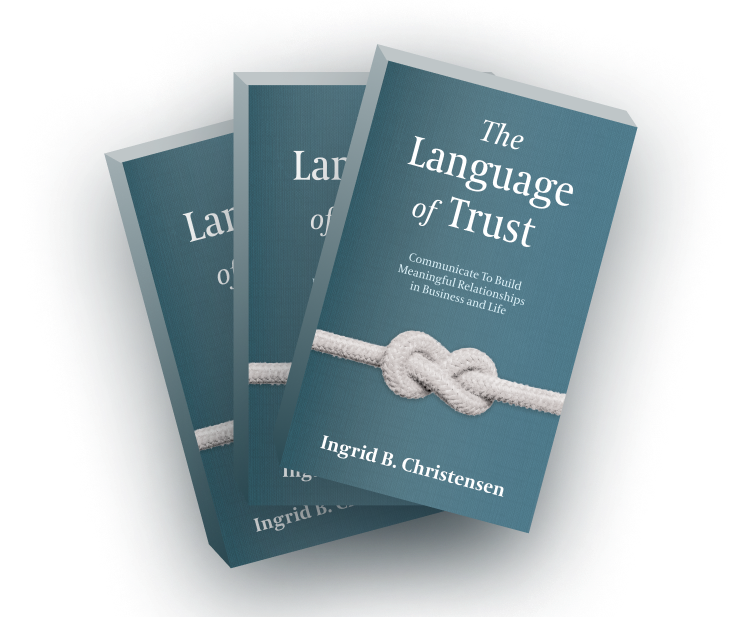 "THE LANGUAGE
OF TRUST"
In The Language of Trust: Communicate to Build Meaningful Relationships in Business and Life, Ingrid Christensen takes a deep dive into the crucial ingredient that makes businesses, cross-cultural communications, and human relationships tick: trust.
Trust is the glue making communication possible between speakers of different languages – and a tool leaders must use to expand their skills and grow their businesses.
Throughout the pages of The Language of Trust, Ingrid gives you a sneak peek into the precise practice of taking meaning from one language and translating it into another, proliferating your ability to connect with people all over the world – no matter what language they speak.